Is Britain Really Going to Leave the EU?
Before we begin our usual weekly commentary, we wanted to take a moment to honor the victims of Sunday's terrible attack in Orlando. Though details are still emerging, it is clearly the most devastating mass shooting in U.S. history. Our thoughts and prayers are with the victims, their families, and with the community that now must cope with the aftermath of the tragedy. As many of you know, RiverTree has clients around the U.S. and even overseas, but Orlando is still our home base and our home community. As we look for answers, let's also remember to be grateful for every day we have with the ones we love.
Though fear took over last week, some strategists believe that the S&P 500 could still test new historic highs in the weeks or months ahead, indicating that there's still some optimism on Wall Street.
What's going on in Britain?
On June 23, Great Britain will hold a national referendum on whether or not to remain within the European Union (EU). The polls had shown that both sides were neck and neck, though the pro-"Brexit" (British exit) side has recently opened a 10-point lead. Even though Britain retains its own currency (the pound sterling) and isn't part of the monetary union, it is a member of the 28- member European Union, which gives it access to the EU's tariff-free single market, accounting for 45% of Britain's export trade. One estimate suggests that Britain's trade with Europe is 55% higher than it would be had it not joined the EU.
Why would Britain want to leave such a lucrative arrangement?
The debate over whether to stay or go comes down to a few key issues: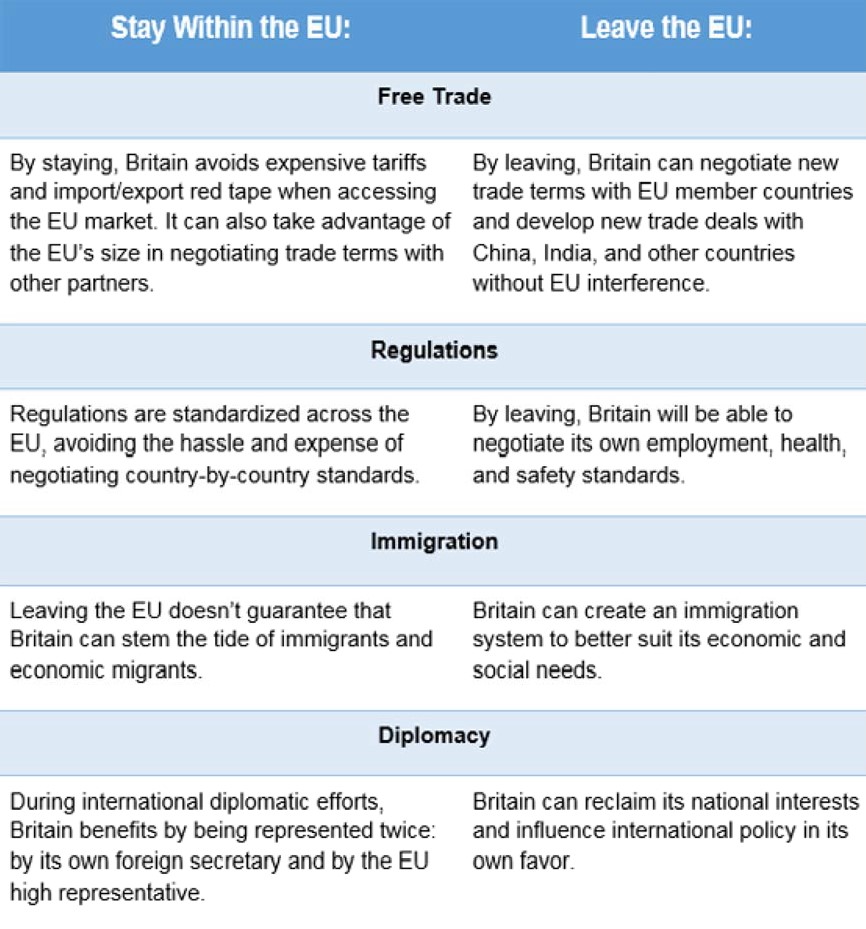 Source: The Economist, Britain Stronger in Europe, Vote Leave
What would a Brexit mean for U.S. investors?
It is uncertain whether markets would react badly if Britons voted to leave the EU. The situation would create serious uncertainty about the future of the EU, and markets generally do not like uncertainty. We don't know exactly how a Brexit would play out; many legal agreements would have to be renegotiated, work situations for EU and British citizens would be left in limbo, and the political climate would drastically change. However, these consequences would play out over several years as both sides negotiate the exit.
Estimates on the cost of a Brexit vary; one worst-case scenario projects a 6.2% loss of economic growth in Britain by 2030. Another estimate projects a best- case scenario of a 1.6% increase in gross Domestic Product. It's very difficult to predict the relative benefits and costs because so much depends on exit negotiations. However, since Britain and Europe need each other, it's likely that post-Brexit negotiations would be favorable to free trade, making the worst- case scenario unlikely.
Many of the worst-case fears regarding a Brexit are similar to those we faced in 2015 with the "Grexit" or Greek exit. The departure of an important member nation could fracture the EU and cause other countries to consider following suit.
Though it seems unlikely that a Brexit would seriously harm U.S. interests, Federal Reserve Chair Janet Yellen stated that the Fed would consider the potential impact of a Brexit when setting interest rate policy this month. Most experts don't expect the Fed to raise rates this week, though there's always room for a surprise.
Need some advice?
We're here to help. Get in touch with us and we'll do our best to guide you in the right direction.