The Fed Effect
If you watched or listened to the financial news media over the last week or two, which normally we encourage you NOT to do, undoubtedly you heard almost non-stop commentary and predictions about last week's Federal Open Market Committee statement. It is hard to remember a time when so much attention was being directed at one word, in this case 'patient', and whether that word would be removed from from the FOMC policy update. The consensus among the media seemed to be that the word would likely be removed, which would mean 'interest rates' would start going up sooner rather than later, which would cause trouble in both the stock and bond markets. Well, the word was taken out, and the stock and bond markets advanced significantly in the two days following the statement.
Since this type of media attention is likely to get louder in the months ahead, let's take a look at how Fed rate hikes have affected the U.S. stock market in the past. Below is a chart that goes back 50 years, and shows an orange line representing the S&P 500 index of primarily large U.S. stocks, and a blue line representing the U.S. Federal Funds target rate, which is set by the FOMC. The yellow highlighted areas show periods of time since the early 1990's when the Fed Funds rate was being ratcheted upwards. You can see that during periods in recent history when the Fed Funds rate was rising, the stock market actually turned in very strong performances.
Remember that financial media are compensated to produce interesting programming, not necessarily to produce relevant or actionable information or ideas to the typical or prudent investor. Yes, the Fed Funds rate is likely to start creeping back up sooner rather than later, but that does not mean that all other interest rates will immediately start screaming upwards, and it certainly does not mean that the U.S. stock market is doomed for an immediate decline. The uptick in rates will have effects that will trickle through the economy and through stock and bond markets, but those effects will need to be monitored and measured and appropriate portfolio allocation changes made only as events unfold.
Hopefully this information will help keep things in perspective as the media frenzy builds toward the first rate hike.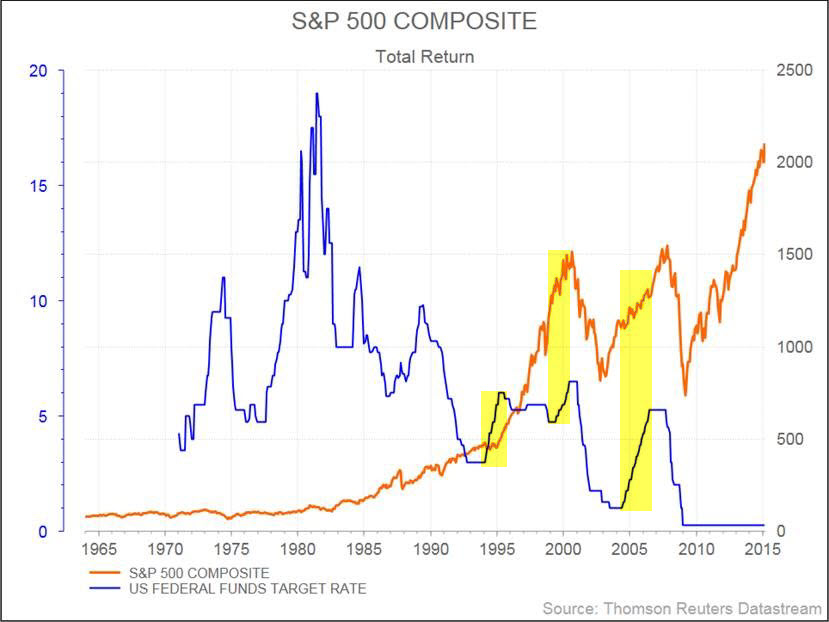 Need some advice?
We're here to help. Get in touch with us and we'll do our best to guide you in the right direction.