Not So Happy New Year for Stocks
With 2013 year-end celebrations disappearing quickly in the rearview mirror, the New Year has been more grumpy than cheery for most global stock markets. While most of the selloffs have occurred in foreign stocks, the U.S. stock market has started to feel some pressure in the last week. We have discussed several times that 2014 could very well bring the first meaningful drawdown in the U.S. stock market that we have seen in the last 3 years, and that such a move would be normal and actually healthy as long as it is contained.
So let's peek at what a 5-10% drawdown could look like from current levels. The first chart below shows the Dow Jones Industrial average for the last 9 months and marks the approximate levels for 5, 7 and 10 percent downward moves from the recent highs. You can see that we are approaching the 5% level already and that a 10% move is still a substantial distance away (over 1,000 points on the Dow).
In the second chart, the time frame is backed up to the last 3 years, and things look a little different from that perspective. You can see here that a 10% move down from the recent highs is still a significant move but would keep this index in line with a multi-year uptrend. A move beyond that would require further evaluation at the time.
Regardless of exactly how the recent action plays out, it is important to remember that it has been 3 years since a drawdown of 10% occurred in the U.S. stock market. Whatever dramatic headlines the financial media might generate, such a move should be absorbed with the knowledge that some type of negative movement is overdue and, if contained, would be helpful in maintaining the longer term upward direction of equities.
Click on the below image to see the larger version: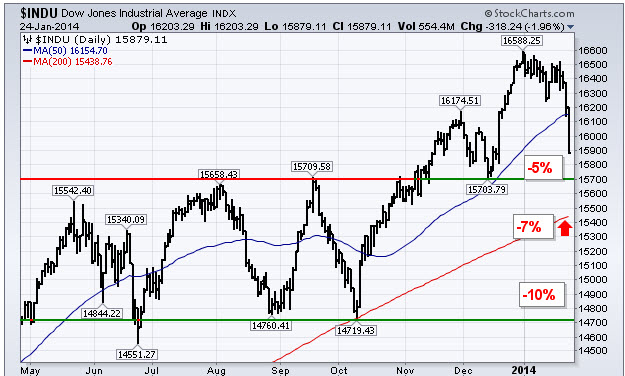 Click on the below image to see the larger version: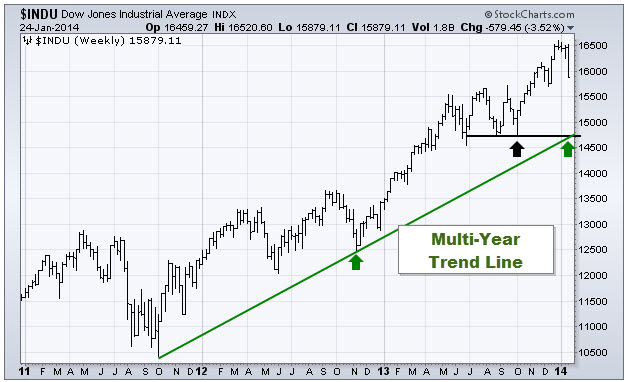 Need some advice?
We're here to help. Get in touch with us and we'll do our best to guide you in the right direction.