Ride the Bull, Don't Chase It
A little over a year ago, the S&P 500 was trading down over 14% from its November highs. The primary price trend was clearly down, global recession discussions were happening daily due to the collapse of oil prices, and investor feelings were decidedly pessimistic. A year later, conditions could hardly be more different. The S&P 500 is hitting new highs almost weekly, oil has stabilized, almost no one mentions global recession anymore, and investor optimism is near record high levels. Prudent advice at times like these can be summed up in one phrase - 'ride the bull, but don't chase it'.

The natural temptation for all investors - private and professional - is to believe that current conditions - positive or negative - will continue indefinitely, and to make decisions based on that assumption. It is also natural to consider abandoning the asset classes that have diversified and moderated a portfolio in favor of concentrating in the asset classes that are experiencing great upside. For example, currently diversified portfolios likely include bond holdings which have been flat or mildly positive during the record run by U.S. stocks over the last year. But it is asset classes like bonds that could dampen future stock downside and could currently be providing good value opportunities.

The important goal is to find the right balance of assets, because the emotional journey of a concentrated portfolio can often lead investors to exit holdings when sentiment is pessimistic and to take above average risk when optimism is rampant. For most investors, a diversified portfolio with a less volatile journey can allow them to have the confidence to stay invested under tough conditions.
Where Are We Now?
As a way of seeing sentiment and market metrics graphically, below is a one year chart of the S&P 500. It uses technical measurements to determine if U.S. stocks are 'overbought', 'oversold', or somewhere in between. You can see that stocks were oversold in June and October of 2016, coinciding with the British Exit vote and with U.S. elections. Conversely, the current reading by this measurement is one of 'extreme overbought'. This does not mean and investor should sell all stocks tomorrow, it just means that likely the timing is not ideal to take on above-normal risk. Although the intermediate and longer term outlook for equities is still optimistic, statistics are suggesting near term caution and patience may be in order. Ride the bull, but do not chase it.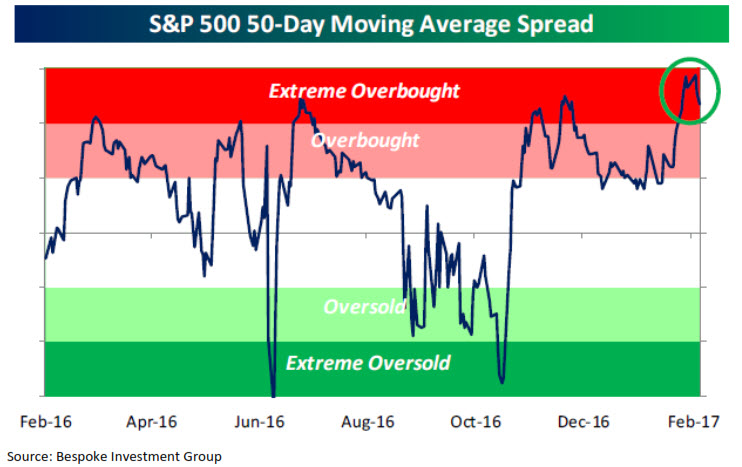 Need some advice?
We're here to help. Get in touch with us and we'll do our best to guide you in the right direction.