What Happens When the Fed Raises Rates?
Here are a few thoughts that should add some perspective on any interest rate policy changes that may be announced by the Federal Open Market Committee today. Regardless of what happens, there will likely be significant media hysteria, so try to ignore that and keep a longer term perspective if any volatility follows the announcement.
There has been a tremendous amount of anticipation around today's policy announcement, and even more concern about how global stock and bond markets will react, regardless of whether a policy change is made or not. To keep all of this in the context of a disciplined and intermediate to longer term investment approach, we wanted to share the chart below with you.
It shows the average historical change in the U.S. stock market for various time periods after the start of a Fed tightening cycle (which means rising interest rates). As you can see in the chart, it shows that since 1950, the average performance of the stock market was positive (sometimes significantly) for all periods from 3 months to 24 months after a tightening cycle began. So keep in mind that regardless of what short-term market volatility a policy change may generate, the historical probability of positive returns over the 2 years after such a change are high.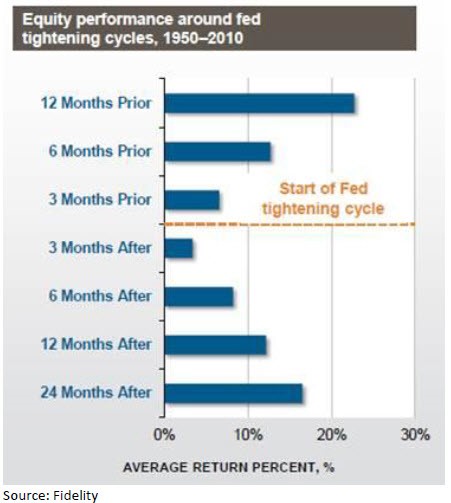 Also, please keep in mind that any Fed policy change will likely move rates from 0% to only 0.25%. As you can see in this second chart below, that would still leave rates at extremely low levels and lower than we have seen in many years.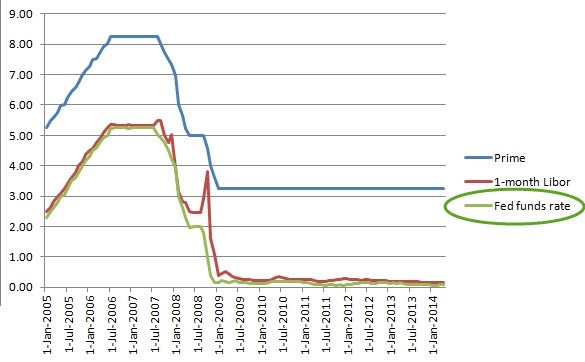 Hopefully this helps provide perspective on any media hype and volatility that may occur this week. Know that regardless of what happens, any change is not very significant at this point in the context of the overall economic picture and an overall investment climate for the intermediate term. Try to pay little attention to anything telling you otherwise, and enjoy the remainder of the holiday season.
We look forward to being back in touch soon!
Need some advice?
We're here to help. Get in touch with us and we'll do our best to guide you in the right direction.